All workshops $12 (except where noted)
Maculelê Dance Intro Class with Mestre Lucas, Thursday August 1, 4:00pm-5:15pm @Kakes Studio

Maculelê is an Afro Brazilian dance where a number of people gather in a circle called a roda. As the Maculelê rhythm plays on the atabaque, the people in the circle begin rhythmically striking the sticks together. The leader sings, and the people in the circle respond by singing the chorus of the songs. This will be an intro level class for people with little or no previous experience.
Orixás Talk with Carmen Nelson (free), Friday August 2, 4:00pm – 4:30pm @Kakes Studio

Carmen Nelson will give a talk before Marta Santo's Orixás movement dance class. The talk will focus on the Orixás and how ritual dances of the African diaspora inform today's popular social dances of the Caribbean region and Latin America.
Orixás Movement class with Marta Santos, Friday August 2, 4:30pm – 5:45pm @Kakes Studio
The gods of the Afro-Brazilian Candomblé religion are called Orixás. Dance, drums and song are the basic elements in its religious ceremonies. These rhythms and dance movements are used in dance lessons, stage performances and other non-religious contexts without necessarily following the religious rituals and tenets but with respect for its inherent power and religious symbolism. The pattern of movement in Orixás dances forms the basis for, and is reflected in, all Afro-Brazilian dance and is used regularly in folklore events in Brazil.
Samba de Gafieira partner dance class with Ivo Vieira and Shani Mayer, Friday August 2, 4:30pm – 5:45pm @Shine Restaurant

Samba de Gafieira (also called Gafieira) is a partner dance to the Brazilian samba musical rhythms. The style originated from samba dancing in cabarets and gafieiras (hence the name, literally meaning "Samba of gafieira"), primarily in districts of Botafogo, Catete and Centro of Rio de Janeiro. Gafieira dancing in the beginning levels is similar to salsa dancing with some fun twists. More advanced gafieira is very improvisatory, whimsical, incorporates many styles of samba dancing, and can tell a story.
Forró partner dance class with Ivo Vieira and Shani Mayer, Friday August 2, 6:00pm – 7:15pm @Shine Restaurant

Forró is lively, fun, and very popular in Brazil. It is danced in pairs, usually close together with the man's right arm placed around the woman's back, her left arm placed around his neck. The basic step is easy to learn and the more advanced steps quickly follow. There are three rhythms of forró: xote (a slower-paced rhythm); baião (the original forró); and arrasta-pé (the fastest of the three).
Sounds of Brazilian Portuguese – Diction and Accent Reduction with Cris Silva, Saturday August 3, 10am – 12pm @El Centro Amistad

Have you always wanted to sound like a Brazilian? Do you want to minimize your accent as you speak or sing in Portuguese? Then, this class is for you! Think of this as aerobics for your mouth and tongue – in Portuguese. In 2 hours, we will walk through sounds, stress patterns and rhythms of Brazilian Portuguese and give you a foundation to improve your pronunciation, accent and speech quality in Portuguese. Please notice that this is not a vocabulary or grammar class. This class is open to speakers of any language who want to speak or sing in Brazilian Portuguese with more confidence and/or minimize their accent.
Cape Verdean Music with Mitchell Long, Saturday August 3, 10:30am – 11:45am @ Odd Fellows Lodge
Intro Samba no Pé Dance (Solo Samba Dancing) with Luciana da Silva, Saturday August 3, 12:00pm – 1:15pm @Odd Fellows' Lodge
In this class, first time students will learn the basic steps of Samba no pe, body position, arms, hip circles and some simple combinations. An introduction to the elements of the dance will be presented to help dancers expand their dance vocabulary. Slow tempo music will be used for practice and then medium and faster tempos added for more challenge. Bring comfortable clothes and good attitude, we are going to have fun.
Intermediate/Advanced Samba no Pé (Solo Samba Dancing) with Luciana da Silva, Saturday August 3, 1:30pm – 2:45pm @Odd Fellows' Lodge
A series of movements like walks, jumps, and turns, plus many more that are specific to men and women will be used to make dance combinations, in addition to samba no pé. We will start dancing with slow tempo music to develop the confidence necessary to execute the sequences, gradually moving up to faster tempos.
Zouk Lambada Partner Dance with Shani Mayer + Ivo Vieira, Saturday August 3, 3:00pm-4:15pm @A Place 2 B

Zouk-Lambada (also called Brazilian Zouk) is a group of closely related dance styles based on or evolved from the lambada dance style and is typically danced to zouk music or other music containing the zouk beat. The name Brazilian Zouk is used to distinguish the dance from the Caribbean Zouk dance style, which is historically related to, but very different from the Lambada dance style.
Kizomba Partner Dance with Shani Mayer + Ivo Vieira, Saturday August 3, 4:30pm – 5:45pm @A Place 2 B
Samba Reggae e Axé with Kebrina Josefina de Jesus, Saturday August 3, 3:00pm – 4:15pm @Odd Fellows Lodge
Samba-reggae has given rise to a style of African-influenced dance derived from Afro-Brazilian and candomble dance moves. In a social setting, samba-reggae dances tend to be done in a follow-the-leader fashion, with a few skilled dancers initiating moves in a line in front of the crowd, and the whole crowd then following along.
Samba and Pagode Percussion Workshop with Francisco Marques, Saturday August 3, 12:00pm-1:15pm @Kakes Studio

This samba percussion workshop is ideal for those students who have little or no experience singing in Portuguese or playing traditional Samba/Pagode instruments. In this class you will learn the fundamentals of playing samba with traditional Brazilian samba instruments: the cavaquinho, violâo de Sete Cordas, pandeiro, rebolo, tantan, tamborim, reco-reco, repique de mao, and ganza. We will also spend time learning some Portuguese so we can sing a traditional samba song by the end of the class.
Samba Drumming For Kids (Age: 3-10) with Vincent Gonzales ($6), Saturday August 3, 3pm-4pm, @Intercambio

Kids ages 3 to 10 will enjoy learning about the percussion instruments and rhythms of Brazilian samba music with Vincent Gonzales and members of the Bateria Alegria performance group.  Participants will clap, shake, move, and drum along in this highly interactive workshop designed to energize and entertain.
Capoeira Intro Class with Larry Stephenson, Saturday August 3, 1:30pm-2:45pm @Kakes Studio
Capoeira is an African-Brazilian folk art that combines playful sparring, music, dance, ritual and philosophy into a game that's a beautiful and effective form of self-defense. Some of the roots of Capoeira can be traced back to the N'golo, an acrobatic challenge dance from the southwest of Africa. This will be an intro level class for people with little or no previous experience.
Bateria Intro Class (Age: 16+) with Carl Dixon, Saturday August 3, 1:30pm-2:45pm @Intercambio
This workshop will introduce participants to the instruments, techniques, and rhythms of Brazilian samba music, focusing on the samba material played by Bateria Alegria, the percussion ensemble from the Boulder Samba School. With up to eight different samba percussion instruments to choose from, there is something for everyone. Jump in and learn to play samba. No experience needed.
Instructors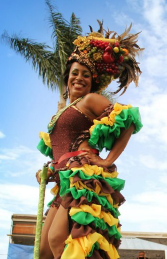 Marta Santos, director, choreographer and costume designer, incorporates samba, African-Brazilian dance, axé aerobics, and carnival batucada drumming into her classes. She currently lives in the Sacramento area in Califorina, where she directs the Samba da Terra dance company. Marta Santos will be teaching the Orixas movement workshop.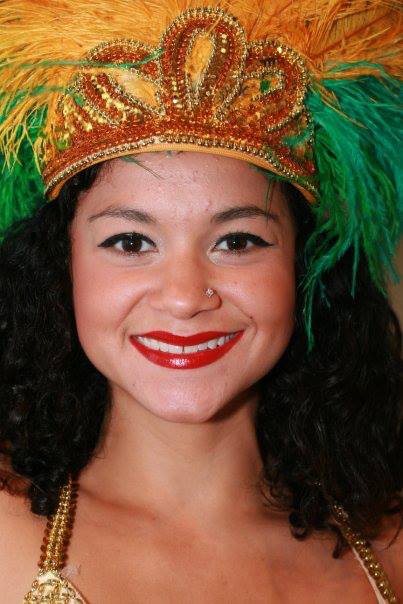 Kebrina Josefina De Jesus: Born in New York and raised in Miami, Kebrina was bitten by the acting bug at 12 years old. Kebrina has performed in a variety of theatre shows from stage to indie films. Upon receiving her Bachelors of Communications and Theatre at Millersville University, Kebrina took a new journey to Dallas to pursue dance. Since moving to Texas in 2008 Kebrina has built her own company, Casa de Baile Traveling Studio. Casa de Baile's services include dance instruction, performance and event planning. She has performed with dance companies Samba Dallas, Salsa Sunrise and Tropico Entertainment. Kebrina embarked a new chapter in Boulder at Naropa University to develop into a Performance Artist and one day become a Professor of Theatre and Dance.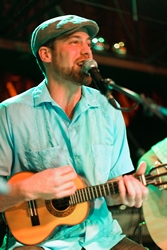 Francisco Marques is actively engaged in the creation and dissemination of Brazilian music in the Rocky Mountain area has played with a multitude of Brazilian music ensembles based out of Boulder, CO. Born in São Paulo, Brasil, he was raised in the Washington D.C. area and graduated from Colby College in 2000 where he received a BA in Music with a focus on classical guitar. He has been playing in the Boulder area since June of 2000 with many bands in a variety of styles.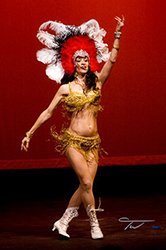 Luciana da Silva is from the city of Caçador in the south of Brazil. She has lived in the U.S for 8 years, and currently resides in Colorado Springs. She has studied and taught many dance forms including; Samba, Flamenco, Belly Dance, Creative Movement, African and Latin dance.  Her studies have taken her to Spain, Morocco, Brazil and the US.  She is an expert at inspiring experienced and inexperienced dancers who want to learn to samba and to connect to the sensuality and joy of this quintessentially Brazilian art form.  Her instruction is grounded in proper technique, patience and plenty of practice!  Always looking for opportunity to expand her skills, Luciana is constantly studying Brazilian music, history and dances.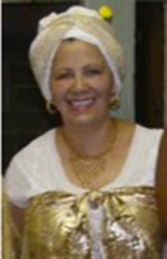 Carmen Reina-Nelson, a native of Guatemala, began her study of Latin Popular Dance with a three-year program of intensive study in Costa Rica with Lilliana Valle. In 1991, she moved to Boulder where, from the outset, her fun-filled classes in Latin popular dance were enthusiastically received. After 1999, her interests broadened to include the religious and cultural roots of this far-reaching and multi-faceted mixture of African rhythms, Indo-European melodies and distinctively Latin American movement. Carmen's respect for tradition deepened through the years under the influence of master teachers including Rosangela Silvestre (Brazil), Richard Gonzalez (Puerto Rico), and others. Carmen has traveled for study to Salvador de Bahia (Brazil), Havana and Santiago (Cuba), Veracruz (Mexico), Santo Domingo (DR), and to Medellin and Bogota (Colombia). She aims to share her knowledge of dance and tradition with an emphasis in this class on the origins and religious significance of the Orixas in Brazil.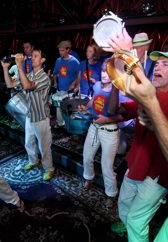 Bateria Alegria is the primary performing ensemble of the Boulder Samba School, composed of 20-30 percussionists. The ensemble plays percussion-based styles of music from Rio de Janeiro (samba batucada) and Salvador (samba reggae). The music incorporates a mixture of African, European, and indigenous influences and traditions. These styles of music are traditionally played during the carnival parades throughout Brazil and can be heard in Brazilian concert stages, dance clubs, neighborhoods, and soccer games. www.bouldersambaschool.org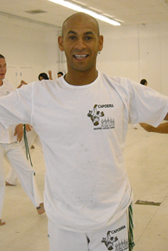 Mestre Lucas (Corvo), Luiz Carlos Assunção Silva, is from Eunapolis, Bahia and has been playing capoeira for almost three decades. Over that time he has traversed much of Brazil, three countries and two continents. He currently lives in Longmont, Colorado.Mestre Lucas started formally training in capoeira when he met a capoeirista named Moezeis at the age of nine. He had just finished working at the local sawmill and was playing capoeira and practice saltos mortais (flips) on the streets, when Moezeis decided to teach the kids some capoeira movements and some new saltos as well. Mestre Lucas was inspired by Moezeis' capoeira and after that started training vigorously in an academy with him. www.lucascorvo.com
Larry Stephenson took one Capoeira class many years ago and was instantly hooked! He was already interested in Brazilian music before trying Capoeira and had always enjoyed flying through the air on his skis and skateboard, so the discovery of the joy of cart-wheeling and somersaulting was like a religious awakening of the somatic variety. Larry started playing the contemporary style of Capoeira and eventually switched to Capoeira Angola, an older traditional style, after having the opportunity to train with Mestre Joao Grande, a legendary figure in the Capoeira Angola world. He then became a student of Mestre Joao Grande and subsequently founded the Capoeira Angola Club at CU-Boulder and was the director for 12 years. Larry is also quite passionate about Brazilian dance and culture in general, speaks Portuguese fluently and is often found at Brazilian music events in Boulder dancing like a wild, sweaty monkey!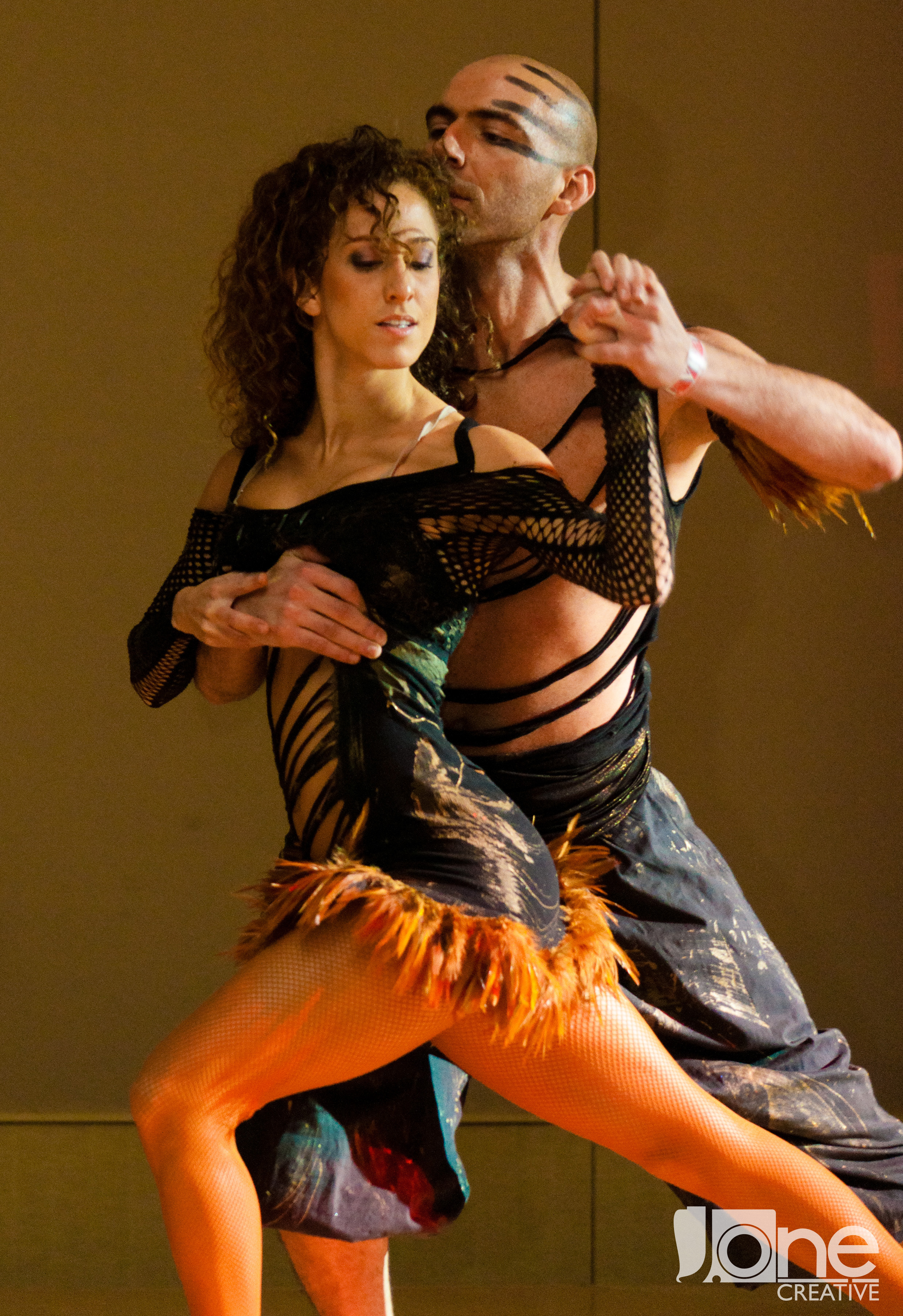 Shani Mayer was born in Israel where she trained in Dance and Gymnastics from a young age. She has trained in Modern dance both in LA and NY and received her minor in dance performance in Los Angeles where she focused on Modern, Contemporary and Jazz and has since been performing with many companies in Los Angeles. In 2006 she discovered Zouk Lambada in its home town of Porto Seguro and since she decided to bring this dance to Los Angeles . She is the founder of LA Zouk and is a pioneer in bringing and spreading zouk to the west coast of the U.S.
Ivo Vieira was born in Portugal to parents from Mozambique and Angola, Ivo Vieira has devoted his life to spreading African and Latin-American dance throughout the world. Since 1998, Ivo has trained in Brazil, USA and throughout Europe brining his unique style, singular passion and unparalleled experience to hundreds of dancers. While working as a choreographer and dancer in various performances, festivals and events, Ivo has risen to become one of the world's premier instructors in the African styles of Kizomba and Semba. With great respect for the traditions and history of these dances, Ivo brings his vast knowledge of the Afro-Latin idiom from around the world to expand and explore what they can become. Ivo & his partner Shani currently live in the US where they aspire to innovate and share their love of Zouk and Kizomba around the world.
Cris Silva, M.A. is a Brazilian native, who has lived in the U.S. for 20 years and taught Portuguese as a Foreign Language at the University of Colorado-Boulder and Kent State University. She currently works as a freelance translator, conference interpreter and voice-over talent. She will borrow vocal techniques from her minor in Theatre and her expertise in working as an interpreter, voice-over talent and radio announcer to give you the type of vocal discipline to take your pronunciation of Portuguese to the next level. She has worked as a voice coach for theatre companies and the music industry.
WORKSHOP Locations
A Place 2 B:
1750 30th Street, Boulder
El Centro AMISTAD:
2580 Iris Ave, Boulder
Intercambio:
4735 Walnut St, Boulder
Kakes Studios:
2115 Pearl St, Boulder
Odd Fellows Lodge:
1543 Pearl St, Boulder
Shine Restaurant and Gathering Place:
2027 13th Street, Boulder
@ Odd Fellows Lodge