Boulder Theater
Doors open at 7pm, Dance Class starts at 7:30pm, Show starts at 8:00pm
Tickets pricing: $18 [click here to purchase tickets]
Join us Saturday, August 3rd for a true Brazilian music and dance extravaganza at Colorado Brazil Fest's finale show at Boulder Theater! After your group samba dance lesson with Paola Behning, you'll be set for 3 amazing bands and plenty of surprises! First, Boulder's Sambadende will get you moving to your favorite samba reggae beats from Brazil's northeast. Next will be a set of samba, pagode, and MPB with Ginga and special guest globe-trotting guitarist and vocalist Mitchell Long, the precursor of Colorado's Brazilian music scene. Boulder Samba School's Bateria Alegria percussion ensemble will join the stage to shake the walls with their Rio carnaval beats, supporting Ginga and the featured dance ensembles. And don't miss the thrilling capoeira demonstration by Mestre Lucas Corvo's Capoeira Canavial, and the extraordinary dance performances by Shani Meyer and Ivo Vieira and Kebrina de Jesus! Vamos Festejar!
Artist Bios and Videos
Sambadende
Sambadende has been sharing the energy of Brazilian music with its loyal fans since 2001. Each show in their hometown of Boulder, CO draws a packed house and the powerful combination of drums and vocals never ceases to bring new fans off the street. Focusing on the street ensemble rhythms and authentic sambas of Brazil, Sambadende adds to its loyal following each time they perform.
The group was created with the intention of sharing not only the soulful music of Brazil, but also the inherent community feeling that is so evident in all Brazilian music. Sambadende was created in 2001 by Ty Hammes, who having lived in Salvador and having performed with Olodum and other blocos in Bahia wished to recreate that sound in the local music scene in Boulder. With the addition of Chico Meira, from Rio de Janeiro, Sambadende expanded its repertoire to include samba do quintal, coco, jongo, MPB, afoxe, maracatu, forro, and other rhythms.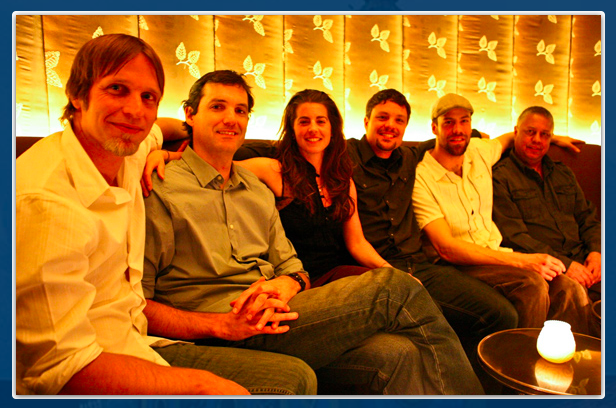 Ginga
Based in Boulder, CO, Ginga plays the sounds of Brazil: samba, pagode, forro, MPB, bossa nova, chorinho, and Brazilian jazz. A Ginga show can span the breadth of moods from ambient listening music to lively dancing and singing, bringing to life the spirited sense of community found in Brazilian music.
Comprised of a unique blend of six talented Colorado musicians and steeped in the study and spread of authentic Brazilian music and culture, Ginga has been dazzling audiences with their energy and musicianship for close to a decade. Whether it's the magnetizing pulse of a samba groove, the alluring dancing that accompanies or the sheer joy that is infused at every show, Ginga specializes in bringing people together to have a good time.
Mitchell Long
Considered the founder of the Brazilian music scene in Denver and Boulder, Mitchell Long specializes in playing authentic Brazilian music, Cape Verdean music, Latin and other world music styles. He is currently the acoustic and electric guitarist, backing vocalist, percussionist and sometimes bassist for the sensational jazz singer and songwriter Melody Gardot.
Bateria Alegria
Bateria Alegria is the primary performing ensemble of the Boulder Samba School, composed of 20-30 percussionists.  The ensemble plays percussion-based styles of music from Rio de Janeiro (samba batucada) and Salvador (samba reggae).  The music incorporates a mixture of African, European, and indigenous influences and traditions.  These styles of music are traditionally played during the carnival parades throughout Brazil and can be heard in Brazilian concert stages, dance clubs, neighborhoods, and soccer matches.
The bateria (percussion ensemble) is made up of a number of different instruments, including the surdo, (bass drums played with mallets), caixa (snare drum), repenique, tamborim, chocalho, and agogo bell.
Bateria performing with Ginga at Colorado Brazil Fest 2012: