Etown Hall, Doors open at 5pm for Welcome Reception and Silent Auction, Show starts at 7pm
Ticket pricing: $15 [click here to purchase tickets]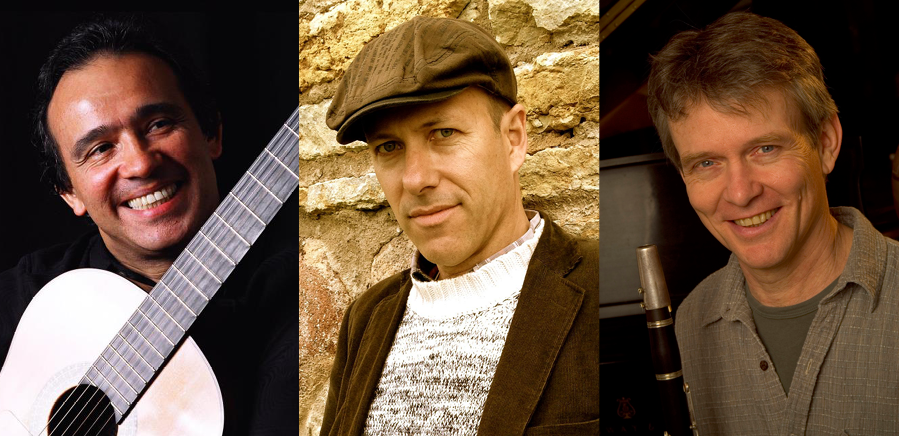 The Colorado Brazil Fest is proud to present an evening of bossa nova and Brazilian jazz at the new eTown Hall in Boulder, Colorado. An enchanting retrospective of Brazilian music will be presented in this new, intimate, and state-of-the-art venue. Renowned solo guitarist Alfredo Muro will open the show with a selection of songs from his Brazilian repertoire. Guitarist and vocalist Mitchell Long will follow, joined by Dexter Payne Group and special guests. Welcome reception and silent auction with Brazilian appetizers starts at 5pm (with music by Daniel Ondaro). Featured performances start at 7pm sharp.
Artist Bios and Videos
Alfredo Muro
"A scholar of Latin American styles, an adept practitioner of the classical repertoire for Spanish guitar and a master of Afro-Peruvian and Afro-Cuban rhythms, Muro has in recent years dedicated himself to Brazilian music. He plays all styles with skill and feeling, though; his attack precise and dramatic, his touch elegant, the effect both sophisticated and soulful. To play the music of Brazil "without an accent," as they say, requires Muro to know the classical tradition and other modern influences as well as the country's folkloric styles. That range allows him to move seamlessly from the compositions of Heitor Villa Lobos to the percussive sambas of Baden Powell, from the lyrical beauty of bossa nova to the energetic, undulating rhythm of early 20th-century choro style. That crossover ability is founded as much on rhythmic feel as musical knowledge."  The Oregonian, 2006
Dexter Payne Group
The Dexter Payne Quartet first performed in 2005 at Dazzle in support of the release of Dexter's Inspiration CD, recorded in Brazil. At the heart of it are Dexter and guitarist Bill Kopper in an ongoing exploration of Brazilian music, starting with traditional choro and branching out in every direction. Drummer/percussionist Raoul Rossiter has been there form the beginning with his masterful embodiment of essential rhythms. With alumni like Bijoux Barbosa, Jeff Jenkins and Francisco Marques, and in the micro-climate of Boulder's Brazil tribe (Boulder Samba School, Ginga, Samba Dende, et al) as well as a return to Brazil, the music continued to grow. In 2008 Thiago de Mello came to Denver, performing with the group in celebration of Payne & deMello's third CD together. In 2009 the quartet really found it's sound with the addition of accordionist Dave Willey. The recent arrival of pianist Victor Mestas Perez from Venezuela adds another color to the weave – altogether a fresh listen to Brazilian musical tradition. Live broadcast sets of the group have become staple re-runs at Denver and Boulder community radio stations, and a newly recorded CD is in the works.
"After five sets I was ready to hear more." Gary Giddins, Village Voice
"a very accomplished musician… and well worth driving a hundred miles or more to hear."  Jon Jackson, Big Sky Journal
"Payne makes the challenging appear effortless" Bret Saunders, Denver Post
Mitchell Long
Considered the founder of the Brazilian music scene in Denver and Boulder, Mitchell Long specializes in playing authentic Brazilian music, Cape Verdean music, Latin and other world music styles. He is currently the acoustic and electric guitarist, backing vocalist, percussionist and sometimes bassist for the sensational jazz singer and songwriter Melody Gardot.
 Daniel Ondaro
Daniel Ondaro's playing, singing and writing have the ability to inspire and connect people from around the world, intersecting cultures, continents and centuries with his music. Classically trained, his interests now lie in the Jazz world, reflecting his even earlier influences of Rock and Blues. A master of tradition that's not afraid to reinvent, Daniel writes music with a personal and modern touch inspired by the classic Samba, Bossa Nova and Swing songs he loves to perform. A world traveler and performer, Daniel's shows have won him praise in the North America, South America and Europe. Daniel will be playing solo guitar during the opening reception from 5pm-6:45pm, featuring bossa-nova, MPB, samba and originals.